Looking for some late night Branson entertainment?  Don't miss our Friday night 10:30 PM show!

Branson Country USA is co-hosted by Grand Country nuts, Jamie Haage, as Jim Dandy, and Mike  Patrick!  With a rotating roster of talent, the show features special guest stars from the rich Branson entertainment industry. From celebrities such as Mickey Gilley and Roy Clark to the up-and-coming stars of tomorrow, the weekly line-up is always a hit!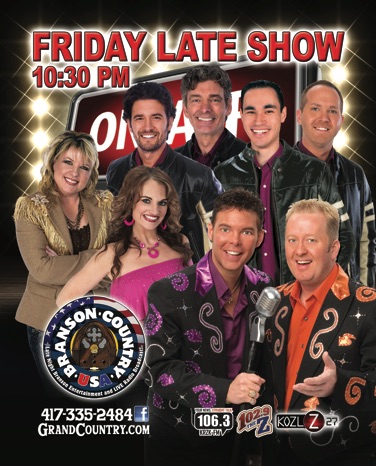 Audiences also enjoy the incredible voices of Jackie Brown, Melody Hart and the power harmonies of New South, both weekly regulars on the show. The entire show is backed by the dynamic Grand Band.

The show is also broadcast on radio and television stations around the country, and includes local stations: KRZK -106.3 FM, in Branson, Missouri; KHBZ - 102.9 FM, in Harrison, Arkansas. and KOZL TV - 27, in Springfield, Missouri.  Be a part of the studio audience! The show can also be downloaded as a podcast, via the internet at www.iTunes.com.   

When the red "ON AIR" light comes on, it's sure to be a GRAND time! 

Branson Country USA is performed every Friday night at 10:30 p.m., January - December.   For tickets and information, call Grand Country Music Hall.  417-335-2484.